With no anesthesia or no down time needed. Acoustic Wave Treatment (AWT) with the D-Actor 100 Ultra provides a quick and easy multi-faceted procedure that takes an approximate time of thirty to forty minutes. The D-ACTOR 100 Ultra is non-invasive and doesn't require any diet or exercise regimen to produce results.
Acoustic Wave Treatment
Acoustic Wave Treatment is a combination of different energy sources. Long, low energy radial acoustic waves are applied to the skin, improving elasticity and the look of cellulite. The way AWT works is by passing pressure waves or sound waves through the skin with enough power to activate fat cells and increase blood flow. This technology allows the body to stimulate fat breakdown, collagen synthesis and lymphatic drainage within the client's targeted areas. AWT has a regenerative effect on cellular metabolism that lasts over time. It also, improves blood flow to the skin and helps cells flush away unwanted fat through the body's natural waste elimination process. AWT has been shown to reduce the effects of cellulite and reduce circumference around legs, hips, and arms, and is an excellent alternative to surgical liposuction.
D-ACTOR 100 Ultra
The D-ACTOR 100 Ultra comes with two handpieces, the V-Actor, and the D-Actor handpiece. The V- Actor handpiece is used first by introducing vibration pulses over large areas to stimulate tissue structures in the lymphatic system. It transmits vibration waves to stimulate blood circulation and eliminates waste products and excess fluids to promote better oxygenation.  Then the D-Actor handpiece is used with low energy radial waves which is applied to the area of skin called Radial Acoustic Waves.  The D-Actor handpiece is compressed air generating "slow impact" Acoustic Radial Waves which promote the target tissue, activate the blood and lymphatic flow. With the combination of different energy sources the Acoustic Waves provide biological effects that can both stimulate metabolic processes and improve connective tissue elasticity.
What Results You Can Achieve With D-ACTOR 100 Ultra
Some goals you can assist your clients in achieving are the following:
Body Shaping
Cellulite Reduction and Elimination
Scar Visibility Reduction and Elimination
Wrinkle Smoothing (Reduction of Fine Lines)
Improvement of Skin Elasticity (anti-aging)
Tissue Tightening (anti-aging)
Reduction of Stretch Marks
Assists in Treatment of Skin Irregularities caused by Liposuction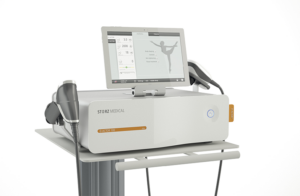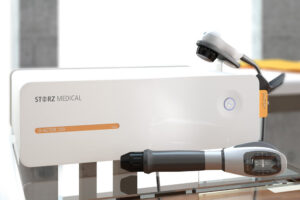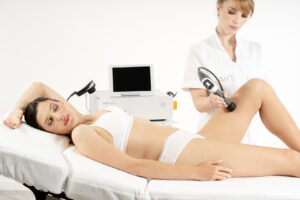 The D- ACTOR 100 Ultra provides results faster than any other device out there and is in a different league in the field of aesthetics. Most existing devices in this field take up to three years for client results and satisfaction. When using the D-ACTOR 100 Ultra after only 3-4 treatments clients will see noticeable results, and by 6-10 treatments clients are projected to have full satisfaction!
The D-ACTOR 100 Ultra is the future of aesthetics and is a ground-breaking, must have device for any clinic! It allows for you to expand your clientele by providing non-invasive treatments that receive phenomenal results.